Pets and Christmas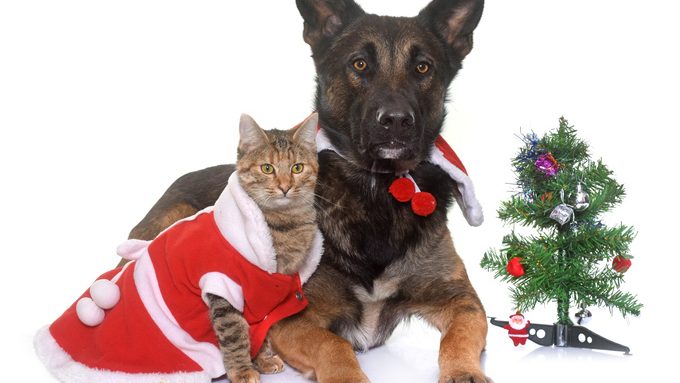 The holiday season is a festive time for both us and our pets. But constant distractions, parties and ongoing activities can get in the way of spotting potential problems for our four-legged family members.
Top of the list are Christmas trees. Many cats love the Christmas tree and want to spend all their time in it, but it comes with dangers:
The first risk is glass ornaments as they can get knocked off the tree and become hazardous. Dogs will try and eat some ornaments as well so stick with plastic or material baubles.
Next is tinsel which can be a really big problem for cats. They love the way it looks and how it feels when they chew it but it's toxic and can lead to problems that may require surgery to remove it.
Pets are an important part of the family but sharing the Christmas love by treating them to a slap-up human lunch is the sort of love that can hurt your furry friend. Vets treat many pets with digestive problems during the summer break. Pet owners need to be aware that there are some foods that we indulge in over the Christmas period that are just not good for our cats and dogs.
These foods include:
chocolate
sultanas and raisins found in Christmas cakes and puddings
onions
garlic
macadamia nuts
avocado
nutmeg
Poinsettias are a very popular Christmas decoration around the house. Care must be taken with cats that they like to chew on indoor flowers as the sap of the poinsettia can cause stomach upsets but in general these plants are not as toxic to pets as commonly thought. The flower I always warn people about is the lily - just one chew on a flower or leaf can be enough to damage your cat's kidneys.
Ensure Christmas paper, ribbons and bows are picked up quickly after presents have been opened as these can prove dangerous to our pets if chewed.
Christmas can be a great time for your pets if a few precautions are taken. Hopefully you will have some time off so you get to spend some extra time with your furry friend. Spoil them over the holidays by making safe homemade treats or buy them a new toy.
For more information or to book an appointment Contact